4 min read
Summer Travel with Transit: Seasonal Promotions for Late-Summer Trips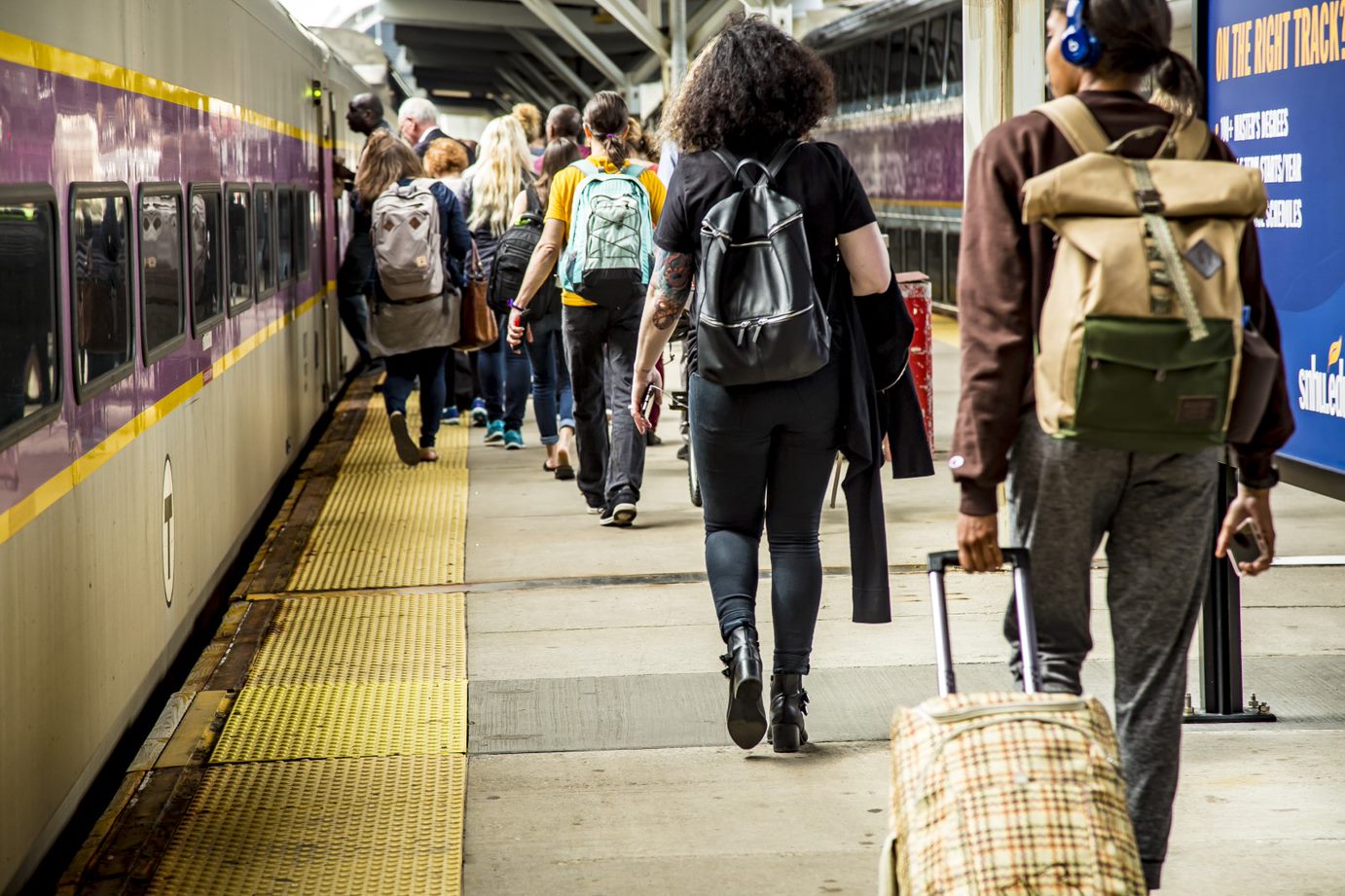 Seasonality impacts ridership levels on private transportation, commercial air travel, and, of course, public transit. The late summer usually sees a lull as families go on August vacations and workers and students haven't yet returned to regular commuting patterns in full force.
However, this seemingly quiet phase is an excellent opportunity for transit systems to encourage use from less frequent passengers, and for recreational travelers to take advantage of public transit's benefits. Various promotions are available at several networks where Keolis is the operating partner for transit service.
Whether you're looking for a beach trip, a brewery tour, a hike, a museum, or a sports event, using transit is a great way to make memories and cap off the summer. Plus, it's cheaper, more convenient, and more sustainable than other ways of getting around, like driving or flying. When using transit, the journey can be part of the destination: spending more time present or in the moment with those you care about.
Greater Boston: $10 Rides and Easy Trip Planning
The Massachusetts Bay Transportation Authority's (MBTA) Commuter Rail, operated by Keolis, provides access to many of the greater Boston region's attractions and has implemented promotional fares designed to boost summer ridership and provide comfortable, reliable, and safe transportation to the region's many destinations. A new regional rail style schedule also means more trains at regular and predictable intervals which makes trip planning even easier.
The MBTA's $10 weekend tickets on Commuter Rail — first introduced in the summer of 2018 — have been incredibly popular among riders and have helped the MBTA increase ridership and encourage new passengers to try the Commuter Rail, (ridership on weekends is now exceeding the pre-pandemic baseline). This year, they've been extended to include federal holidays as part of a six-month pilot program that began in May. "The $10 Weekend pass makes it more affordable to visit the people and places across the Commuter Rail network on the weekend and we are excited to expand this program to include federal holidays," said Abdellah Chajai, CEO of Keolis Commuter Services and General Manager of the MBTA Commuter Rail.
The Greater Boston area is home to a variety of weekend excursions, and it's never been easier to decide where to go. Whether you're interested in beaches, breweries, ice cream shops, or family fun, you can visit massbytrain.com for curated journeys, interactive maps, and other features to help plan a trip.
Virginia: Access to the Nation's Capital and Fare-Free Fridays
Connecting the outlying cities of Central and Northern Virginia to historic Union Station, a short walk to the Capitol, in Washington, D.C., the Virginia Railway Express (VRE) is Keolis North America's inaugural contract and serves over 5,400 passengers daily. The VRE recognized that ridership on its lines tends to be lower during the summer and on Fridays year-round and this summer introduced fare-free rides on its trains each Friday from Memorial Day to Labor Day.
While Friday, September 1st is the last fare-free Friday for the VRE, there's still time to take advantage of its offerings. The VRE allows quick and easy access to the nation's capital to watch a Nationals game, take a stroll on the National Mall, or visit any of the Smithsonian's free museums. Across the Potomac River, National Landing or Old Town Alexandria in Virginia are easily accessible from the Alexandria station.
In Manassas, VA, OmniRide has also added a fare-free Friday for express routes on September 1st. This service includes routes with later trips that enable passengers to maximize their day in the Washington, D.C. area. Plus, new Saturday routes have also been added around Manassas. More details on these services, all fare-free services, and recent schedule changes can be found here.
Southern California: Half-Off Passes and Youth Ride Free
Keolis' operations across California provide access to the Golden State's diverse offerings in and around Los Angeles and Orange Counties.
Foothill Transit connects the Pomona and San Gabriel Valleys, allowing riders to access the region's varied destinations, including museums, hikes, and college football stadiums. This summer, Foothill is offering a half-priced pass sale through September 30th. Thanks to the half-priced passes, passengers can ride more, pay less, and take full advantage of the region.
In nearby Orange County (OC), the Orange County Transportation Authority has made sure that youth don't need to stay inside all summer. Those between the ages of 6 and 18 can ride all OC Bus fixed-route service for free by signing up for a Youth Ride Free pass. While this promotion is available year-round, summer is a great time for kids to explore their communities and take advantage of the break from school.
A convenient, affordable, and sustainable option for late summer travel
Late summer is an especially convenient and affordable time to use public transit to explore new destinations. Car travel and flying can be stressful, and gas prices tend to rise in the spring and peak in late summer when people drive more frequently, according to the U.S. Energy Information Agency.
Using public transit is significantly more sustainable than other means , and while taking public transit is climate-friendly in and of itself, Keolis is working with partner agencies to help decarbonize their fleets and navigate the transition to cleaner fuels. For passengers, riding public transit is a simple act that ensures that summer trips don't have an outsized negative environmental impact.
As the summer ends, don't miss out on all that public transit has to offer and consider how it can take you to new destinations conveniently, affordably, and sustainably.
---
Enjoying the blog? Make sure to sign up for updates below!