6 min read
Energy Transition – How Keolis Can Help Navigate the Alternative Fuels Pathway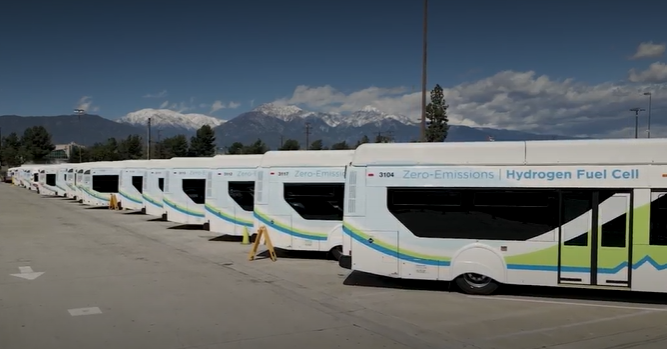 Around the globe, public transit agencies are being prompted to rethink the way they have been providing service. Operational factors like fleet and rolling stock, maintenance, information technology, and even big-picture elements like land use and regional planning, are now being reconsidered in view of their impact on not only passengers but also the larger community.
Because as the global community continues to coalesce around the environmental and climate impacts of petroleum-fueled transportation, public transit agencies (PTAs) will need to find cleaner ways to power their fleets and transition to energy sources that reduce emissions.
This means rethinking, revisiting, and retooling many aspects of traditional transit operations, including transitioning to cleaner fuel and energy sources…a challenge that many PTAs do not feel equipped to handle.
The Climate for Alternatives Fuels
Over the last decade especially, social and governmental organizations have joined forces to bring more awareness to the climate impact caused by petroleum products and fossil fuels. Segments of the public are becoming increasingly concerned about climate change and are putting pressure on the international community to address what is being characterized by some as a global crisis.
Chief among the concerns of the environmental, political, and social groups is the levels of greenhouse gases emitted in energy-dependent economies, specifically in the transportation sector.
An aggressive move to reduce tailpipe emissions applies to not only private vehicles but other types of vehicles such as trucks, motorcycles, and public transit buses. Regulatory and government agencies are often placing "decarbonization" targets on PTAs, requiring quantifiable reductions in CO2 emissions. Some are setting timeframes in which agencies will be required to attain carbon-neutral operations.
In this political and social climate, transit agencies operating rolling stock that is largely powered by gasoline and diesel, are finding it necessary to transition toward alternative fuels for their fleets of buses, shuttles, trams, commuter rail, and heavy rail.
But understanding the pathway to moving toward alternative fuels, especially in view of fleet and technological implementation, requires the kind expertise and experience of a partner like Keolis.
Navigating the Alternative Fuels Pathway
As PTAs decide to move toward the implementation of alternative fuel programs, there are numerous considerations – other than just government regulations and climate impacts – that must be weighed. In essence, every facet of an agency's operations must be rethought and redesigned: maintenance, fleet management, operations, land planning, information systems, and system integration. The financial implications of purchasing or converting rolling stock to alternative fuel sources, supplying fuels, and transitioning to carbon-neutral operations can have long-term fiscal impacts. Also, navigating federal, state, local, and regional environmental and operating regulations can be daunting.
Other, more practical elements, also play into the decision-making process. The operational range of vehicles will depend upon fuel choice. Passenger comfort and satisfaction is an intangible aspect of the transition that should also be considered since fuel choice may also impact fleet performance and operations. Flexibility of operations and fleet stock are key to adequately serving a PTA's community. And capital expenditures for fleet upgrades or conversions, as well as sunk costs of alternative fuel supply chain and procurement, may have an impact on the total cost of ownership for agencies.
Making the Move
If an agency makes the commitment to navigate the alternative fuels pathway, careful steps need to be taken before converting or purchasing that fleet of shiny, new natural gas or electric buses.
Converting a fleet of diesel vehicles to natural gas or electric may require a concept-to-execution timeline of up to three years: One year for analysis and selection of fuel choice, nine months for design and specification or new fuel system, a year for procurement, construction, and start-up, and whatever term is left on operation and maintenance contracts.
Internally, PTAs may need to re-examine their operations and management structures, fleet maintenance and monitoring systems, and even the way departments collaborate on agency-wide decisions. Choosing an alternative fuel source and purchasing or upgrading fleet will involve the entire agency – and most likely local leadership or agency stakeholders. Additional capital expenditures required may depend up on which fuel a PTA chooses – NGV refueling infrastructure, electric recharging facilities, hydrogen production and recharging, and any combination thereof.
Physical assets such as maintenance and fueling facilities may need to be redesigned and constructed to accommodate the fuel choice. Charging stations and recycling or second life for batteries, CNG storage and distribution, hydrogen production, and shop space and maintenance areas will likely need to be reconfigured to provide upkeep on vehicles no longer utilizing the same volumes and types of petroleum products.
In the process of making these dramatic changes, transit agencies must still fulfill their charge of providing transportation to their customers. So, the transition must be navigated to avoid the disruptions in public transit – all of which greatly complicate the management of change and transition.
But with legislation funding public transit and providing financial incentives for alternative fuels, now is a great time to consider making the move. The 2021 American Infrastructure Investment and Jobs Act, also known as "The Bipartisan Infrastructure Law," provides $12.5B for EV charging stations and purchase of electric and hybrid school buses, funds available through 2026 via the Federal Transportation Administration.
So, with so many things to consider, how does a PTA make the move toward transitioning to alternative fuels?
This is where Keolis can help.
Keolis – Alternative Fuels Center of Excellence
Finding reliable information on most topics is not difficult but finding reliable information on a topic as complex as energy transition for transit fleets is a different story. Untangling the web of technologies, regulations, incentives, and financials is tough, especially in a field where many so-called experts exist. And choosing the wrong advocate or strategic advisor can have long-term negative impacts.
This is where the Keolis Center of Excellence can help guide our PTAs clients and partners through the maze of the energy transition process. We understand that each PTA must have a complete picture of their unique circumstances and how those may impact their decision-making processes, so our primary goal is to ensure that our public transit agency clients and partners are armed with informed points of view.
Here are just a few of our credentials:
We have the operational experience in all alternative fuel options to support your decision-making for energy transitions. For example, Keolis manages approximately 5,000 (2021 figures)alternative fuel vehicles of all types (electric, NGV and bioNGV, hydrogen, biodiesel, hybrid) in dozens of municipalities.

We house a reservoir of feedback on the experiences of PTAs worldwide, including data on local pollutants, active operations, related safety constraints, total cost of ownership and so forth.
We have knowledge of the pertinent regional and local regulations across the globe.
Here are just a few of our successes:
Keolis oversaw the complete modernization of bus operations in Greensboro, North Carolina, deploying all-electric Proterra buses along 16 routes and delivering of 3.8 million passenger trips annually.
In Pomona, California, Keolis is working with the local transit authority to complete the deployment of 33 hydrogen fuel-cell buses.
In Blois, France, the city executed a Keolis plan that saw public transport usage increase by 38% in seven years (2013-2020), including the launch of a 100% electric bus line.
To learn more about our experience and successes and how we can leverage the Center of Excellence to help your energy transition. Fill out the form below today to get started on your agency's journey toward energy transition and alternative fuels. Our team of experts can provide guidance and support for every aspect of the transition, from planning to implementation and beyond. Let us help you navigate the pathway toward a cleaner, more sustainable future for your agency and your community.
Keolis and its partners and subsidiaries develop mobility solutions for modes including trains, buses and coaches, trolleybuses, river and sea-shuttle services, bike-share services, car sharing, fully electric driverless shuttles, and urban cable cars. Keolis employs 68,500 people in 16 countries: Australia, Belgium, Canada, China, Denmark, France, Germany, India, the Netherlands, Norway, Qatar, Senegal, Sweden, the United Arab Emirates, the United Kingdom, and the United States.