6 min read
Building transit systems around people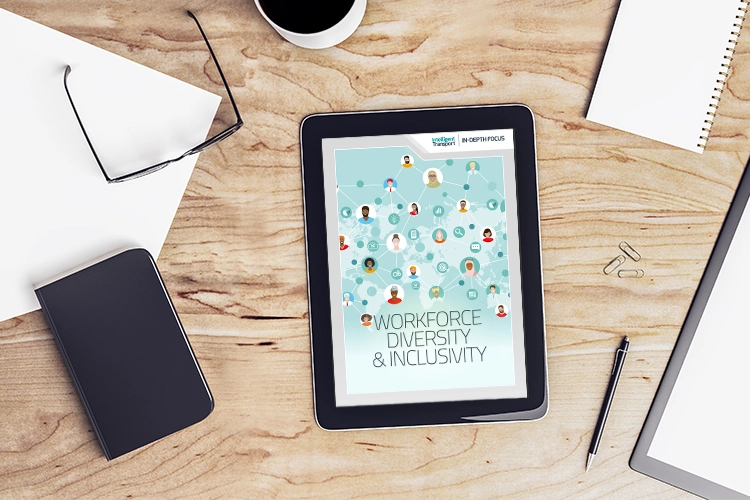 This article originally appeared in The Workforce Diversity & Inclusivity In-Depth Focus in Intelligent Transport Issue 1
Nichole Gladney, Keolis North America's Vice President of Diversity, Equity and
Inclusion (DEI), shares her insight into the workforce of tomorrow, and discusses
how Keolis' approach to improving DEI goes beyond just closing the gender gap
by also considering factors such as work policies and practices, equal pay, work life balances and personal development and growth opportunities.
With intentional efforts over the last several years, progress has been made in the public transportation industry towards building more diverse and inclusive workspaces. However, much work still remains. Women, for example, comprise more than half of transit passengers, but only 15% of the workforce1.
More trips are taken on transit for errands, leisure activities and general travel than for commuting. And so, imagine what our networks, stations and even our buses or trains would look like if their design were led by working mothers. One could see concerns over public safety at dusk, accessibility for people with strollers or usability by those with limited mobility being prioritized and factored into decision-making processes. This is an intrinsic benefit of making the transit industry more reflective of the people who depend on it the most.
There is broad consensus in the business community that prioritizing diversity, equity and inclusion (DEI) is not just the right thing to do, but it's good for the bottom line and creates a work culture that embraces equitable processes and policies. Building inclusive transit networks benefits communities across the globe by allowing ease of movement and mobility for everyone, no matter their circumstances – as opposed to, say, the 9-to-5 commuter only.
Tomorrow's workforce is much more aware of these expectations – not just of public services like transit, but of private industry, too. Equal pay for equal work is a well-known imperative on business. However, expectations do not stop there. People also demand equitable work policies and practices that promote inclusive work cultures. The cost of equal pay cannot come at the expense of treatment by superiors or other employees.
Accepting the shift away from the traditional 9-to-5 workforce
New generations of workers know that healthy work-life balances are important to overall wellbeing and productivity in the workplace. One study found that half of Gen-Z2 (those born between 1997 and 2012) work from their bed. While most of the transit workforce is on the front lines, this still represents an enormous shift in mindset from previous generations that typically worked traditional shift patterns with one or two companies for the duration of their career. Taking this into consideration, agencies and private operators must be innovative when identifying new ways to promote and make jobs within their companies attractive. Good pay, comprehensive benefits and paid time off are now basic expectations. Employees are seeking inclusive work practices that promote development and growth.
People are also gravitating towards diverse leadership that captures a variety of skillsets, creative ideas and inclusive planning. Workplaces don't necessarily need to have a ping pong table or a kegerator to attract new talent, but they do need to create a culture where communication is open with managers and senior leaders, where everyone's Emotional Quotient (EQ) is constantly being levelled up and where they can be mentored.
Taking action
Here are a few actions that Keolis North America (Keolis NA) has taken that any organization, big or small, public or private, can adopt:
De-gendered job descriptions and appropriate use of pronouns. All Keolis senior leaders list their pronouns to signal to the non-cis-gendered community that they are welcome to be their authentic self, if they choose
Established Employee Resource Groups: our Employee Resource Groups are voluntary and employee-led, and aim to foster a diverse, inclusive workplace aligned with the organization's DEI objectives. Keolis launched a Minority Employee Resource Group (ERG) in November 2021 and a Women's Employee Resource Group in March 2022 to provide professional development opportunities for under-represented groups, develop future leaders within the company and increase engagement while expanding marketplace reach. These Resource Groups will expand to support additional groups such as veterans and members of the LGBTQ+ community
Joined the American Public Transportation Association's (APTA) Commitment to Racial Equity and Inclusion Program
Partnered and signed the CEO Action for Diversity & Inclusion: comprised of more than 2,000 signatories, CEO Action for Diversity & Inclusion is the largest CEO-driven business commitment to drive measurable action and meaningful change in advancing diversity, equity and inclusion in the workplace
Developed and designed a seven-step, high impact Mentorship Program, led by our most senior leaders across the company, for dedicated Keolis employees who are interested in expanding their skillset, development opportunities and potential advancement within the company over time. This program creates pathways to additional opportunities for participants within the company, while increasing employee engagement and sparking a sense of belonging
Implemented Engagement and Inclusion programs: across all platforms, these activities promote continuous learning while increasing cross-collaboration across divisions and departments. Keolis has implemented annual employment engagement surveys, routine focus groups, listening sessions, location specific action plans and collaborative events across the company.
Why share this information publicly?
Keolis does not approach DEI strategies and initiatives as a competitive advantage to attracting top talent and new business. We understand that, if we can make the industry a better place for everyone to work, then we can contribute to the improvement of the communities that we serve through safe and reliable transit.
This work is ever evolving and starts with dedicated leadership. Study3 after study4 shows that top executives are the primary individuals who need to initiate change and lead by example to create sustainable change. However, to be most effective, this work requires participation from everyone. It is a continuous collective effort led by leaders to drive change.
Organizations and their leaders who are interested in being more inclusive should consider joining a pledge or initiating their own and then make it public. By looking at our respective passengers and workforce, we can easily identify gaps in representation. Sometimes, bridging these gaps may be daunting. But, if early actions have not yet been taken, this becomes an opportunity to start benchmarking. Every successive quarter or year is an opportunity to see how an organization has improved, even if it is only slightly.
The natural question: what are we measuring?
Workforce demographics are the easiest place to start. In fact, Keolis posts this information directly on its website5 . But organizations should also consider things like time to fill jobs and turnover/ retention rates. Employee satisfaction – measured annually, quarterly or even with quick snapshots – will help to give a sense of where things stand with employees. However, it should be cautioned that none of these things can be relied on, individually. They all need to work in concert, and with the initiatives referenced earlier, to be most effective. Perfunctory DEI doesn't stick and is immediately identified as such. Employees prefer6 to stick with companies who prioritize DEI through actions and commitment.
Building an empathetic workforce will help with succession planning and building institutional knowledge – which will pay dividends in company culture and operational success. It's important to shy away from the old recruitment styles that may include nepotism or interviewing without checks, balances and objective metrics.
The benefits of committing your organization to this work is clear: increased retention rates and systems that work better for passengers. This becomes a virtuous cycle of employees who feel valued and stay, while improving performance over time through increased job satisfaction and engagement at work. Those benefits are enjoyed by passengers who appreciate fewer dropped trips, better on-time performance, employees who look like them and even timetables and amenities that better meet their needs. After all, healthy transit networks mean healthy communities.
References