3 min read
Waterloo ION Light Rail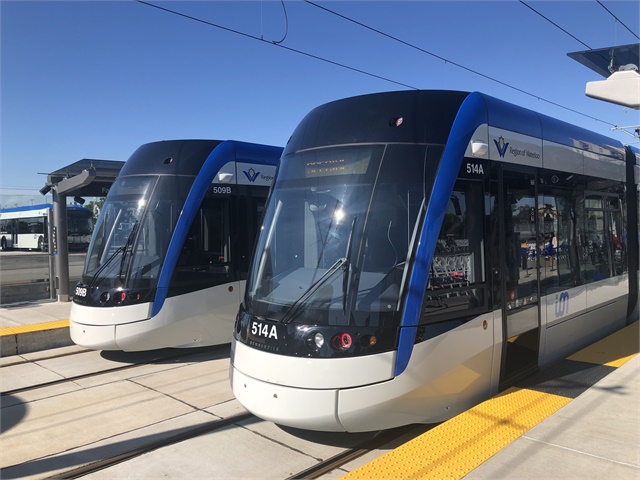 The ION light rail transit (LRT) system, which operates in the Region of Waterloo, Ontario, Canada, is showing how transit systems can contribute to improving the quality of life for riders. In addition to serving as an alternative means of travel, ION has also become a catalyst for enhancing the quality of life for the community as a whole.
The 12-mile (19 km) ION LRT currently serves 19 stations on the route between Conestoga in Waterloo and Fairway in Kitchener. The system began operating in 2019 and links a variety of destinations, including historic downtown districts, shopping malls, schools, and the University of Waterloo. The system also provides access to additional transit services like the ION bus, which connects with the neighboring community of Cambridge.
In Canada, Keolis is responsible for the operations, maintenance, and rehabilitation of the system, and oversees ION's 15 light rail vehicles (LRV)s and the single- and double-track alignments that run both on-street and in shared freight rail rights-of-way.

LRT Sparks Sustainable Living
Light rail transit systems worldwide have been shown to have positive impacts on land use, mobility, inclusive access, and shaping future growth – all while minimizing the environmental impacts of single-occupancy vehicles (SOV)s. Carefully planned transit-oriented development (TOD) adjacent to LRT stations can concentrate activity centers, intensify density, and attract private sector investment in mixed-use projects that combine residential, commercial, educational, and recreational destinations. The "transit watershed" created by LRT systems also provides linkages to other modes, including buses, shuttles, trams, for-hire vehicles, and even micro-mobility such as scooters, ultimately increasing transit usage, reducing SOVs, and allowing communities to balance investments in roads other automobile-centric infrastructure.
Although some have been critical of the capital expenditures required to build and maintain LRT systems, a 2020 report by the American Public Transportation Association (APTA) outlines the economic benefit to property values, jobs, congestion, and growth management, which are realized in nearly every community where LRT operates. These metrics are all shown to contribute to overall quality of life by reducing travel time and congestion, improving access to mobility options, reducing greenhouse emissions, and revitalizing areas adjacent to LRT stations – all benefits Waterloo is seeing with the ION.
Success in Waterloo
As a newly built greenfield project, ION is the result of years of careful planning to address growth, land use, and transportation options. Regional partners laid the groundwork for rapid transit as part of the 2003 Waterloo Council's Regional Growth Management Strategy's efforts to manage future growth. In 2009, the Council identified LRT as the preferred technology for rapid transit and, in subsequent years, identified funding, schedule, and partnerships – all critical elements of making the project a reality.
Early plans for Green River Transit's ION project addressed these key regional considerations and provided a sustainable solution for the more than 200,000 residents expected to move into the Waterloo Region. In addition, the plan encouraged intensifying development in existing dense urban corridors as a means of preserving farmland, protecting precious groundwater, and minimizing requirements to expand the existing roadway network.
Now open and fully operational for three years, the positive impact of ION has been seen throughout the communities it serves.
According to Keolis, "This system has already proven to be a transformational community project, shaping the Region by encouraging a more compact urban form, helping protect sensitive environmental landscapes and high-quality farmlands. Growth upward, instead of outward, can be measured by the rate of intensification (percentage of new housing inside the already built-up area). In 2019, the year that ION opened for operation, 73 percent of all new housing was built in these further densified areas."
Success breeds success, as the saying goes, so Waterloo is already looking to the next phase of ION as a way of extending the system. The current ION bus, which runs from Fairway Station to the Ainslie Street Terminal in Cambridge, is being studied as Phase Two of ION, converting the existing bus service to a new light rail system that may see operation as soon as 2032.
Quality and sustainability issues like diversifying land use, managing population growth, and providing access to employment are vital factors in the planning of the new system. Exploring access to affordable housing and community resources are also important elements that will play a part in shaping Waterloo's future growth and development.
A Model to Emulate
All the efforts – both past and current – have placed the ION as exemplary among LRT systems worldwide, showcasing the clear benefits of carefully planned, implemented, and operated rapid transit systems.
The Grand River Transit ION light rail project moves tens of thousands of riders each day, transporting passengers through dense urban streets and rural neighborhoods, linking people and places, and moving the Region of Waterloo toward a more sustainable future for generations to come.
Want to stay up-to-date with the latest transportation news and trends? Fill out our form now and receive exclusive access to our blog, where we share expert insights, industry updates, and more. Don't miss out – sign up today!