5 min read
Keolis Lean Management Fleet Maintenance System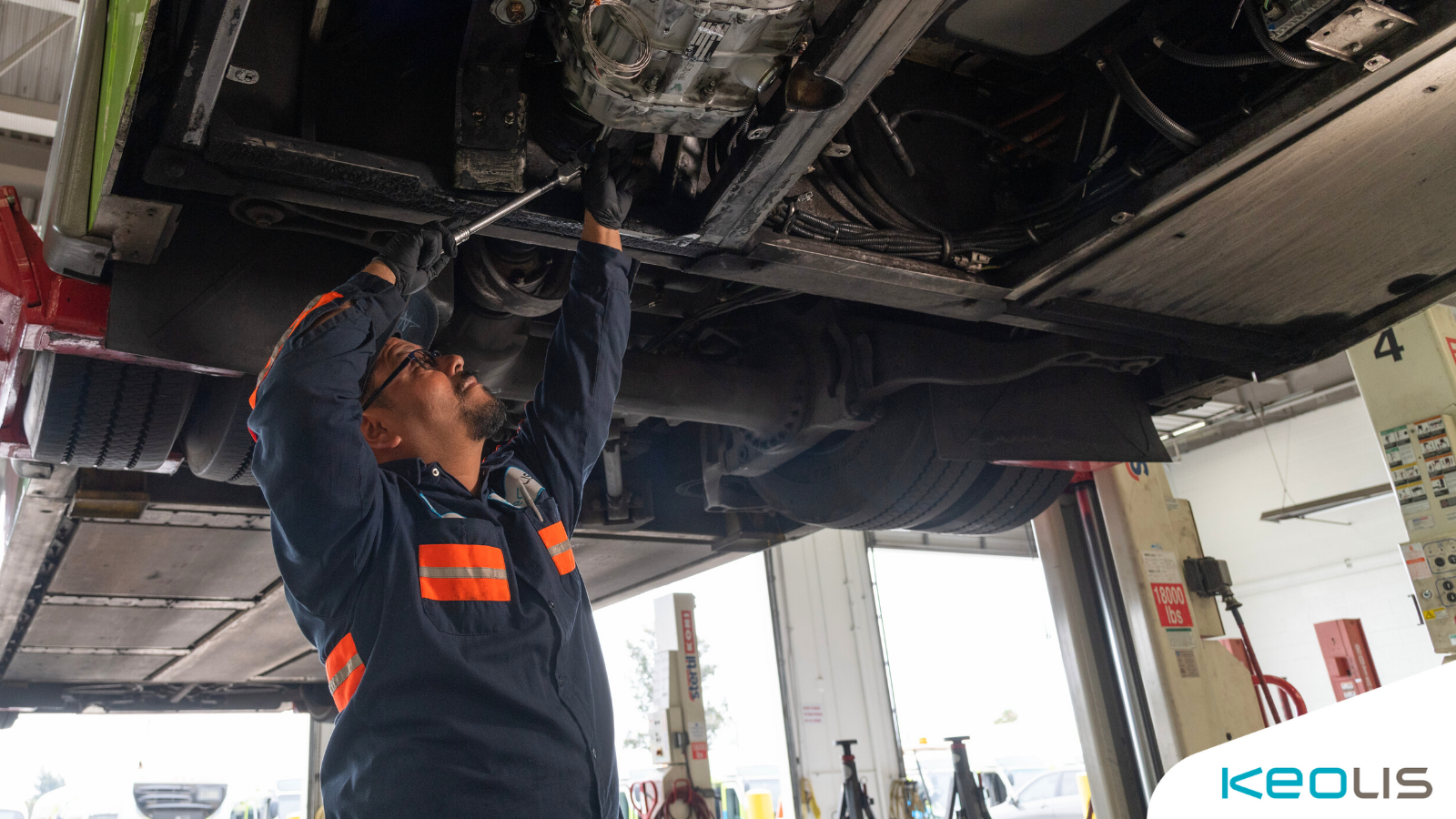 Every transit operator knows the importance of fleet maintenance. How agencies approach, manage, and improve their fleet maintenance systems affects not only the fleet itself, but also the agency's ability to adequately serve passengers. If rolling stock is not operational or available for passengers, service interruptions can severely impact the reliability – and customer perception – of an agency.
Effective and efficient fleet management systems should consider all aspects of the maintenance process, including staffing, training, parts, and workspace efficiency. In addition, systems should include mechanisms that allow agencies to analyze and adjust the maintenance process to improve outcomes. Frequently, management of the maintenance process can be as important as the maintenance itself, and there is often a direct correlation between the implementation of a maintenance system and the availability and reliability of the agency's fleet and infrastructure.
KIHM Keolis Industrialized and Harmonized Maintenance (KIHM) is a lean management system focused on continuous improvement of maintenance operations for all transit modes and their supporting infrastructure, including bus, tram, light rail, and heavy/commuter rail. KIHM's comprehensive and systematic approach brings consistency and efficiency to the maintenance management throughout Keolis' subsidiaries, providing proven, world-class management practices that are tailored to the needs of each agency.
The KIHM process is also driving change in the way Keolis operates worldwide. By using continuous improvement and lean management, Keolis is providing public transportation that meets the highest standards of safety, reliability, and comfort.
Elements of KIHM
Like many lean management systems, KIHM is based upon a set of guiding principles – pillars that outline the maintenance operations continuous improvement process. Meant to be implemented in sequential order, these four pillars serve as milestones and help agencies integrate KIHM into all areas of maintenance management.
Below are the four pillars with a brief explanation of each:
Forecasting – Predicting, outlining, and planning of the maintenance process, such as targeting maintenance schedules and organizing staff to improve reliability and protect asset investments

Planning – Accounting for future demand and resources to enable agencies to forecast purchasing and stock management. This may include understanding the timeline for parts inventory management.

Execution – Establishing clear processes and procedures, improving the relationships between shop floor staff and managers, assessing skills and providing opportunities for improvement, and arranging work areas to maximize productivity and quality.

Monitoring – Utilizing data from maintenance operations to identify risks to maintenance targets. This pillar is critical to performance and cost control, as agencies can make operational and policy adjustments from these findings to facilitate continuous improvement environments.
KIHM also helps Keolis plan and deliver change to their subsidiaries, guiding them to achieve maximum benefits. Throughout the process, Keolis supports agencies with management training, expert onsite assistance, progress reports, and on-call mentoring and advice. Keolis Sweden, for example, experienced how implementing a different style of management helped employees better utilize their skills and experience.
With consistent high-quality maintenance as the goal, each agency's KIHM must be organized, planned, conducted, and monitored so that vehicles and infrastructure are reliable and safe for passengers – a process which has shown rapid results in improving the quality of management and service. Eurobussing, a Keolis coach system operating throughout Belgium, saw a marked increase in fleet reliability and employee satisfaction due to KIHM implementation.
For many agencies, increasing fleet reliability and availability is the prime objective of their KIHM programs. Benefits to implementing the continuous improvement process include the ability to provide passengers with more reliable trips, an increase in fleet size due to low occurrences of out-of-service rolling stock, and the tools needed to conduct business more efficiently. The structured maintenance management approach implemented by Keolis Bordeaux, for instance, resulted in a 10% increase in fleet availability and freed up trams for additional service.
KIHM Outcomes
From established high-performing companies to new and emerging businesses, the KIHM Keolis Industrialized and Harmonized Maintenance initiative helps Keolis subsidiaries reach a common level of excellence in the execution and management of their maintenance programs. To track these positive outcome, key metrics are established which will be performed throughout the KIHM integration.
It is important to ensure that the group maintenance policy is embedded in each subsidiary and that accountabilities and strong processes are in place for maintenance tasks, local regulations, and passenger safety. KIHM expert teams then guide partners through assessment processes that drive quality, safety, and efficiency, and, by changing the way people work, maintenance becomes more efficient, organized, focused, and directed. Then, by implementing practical and simple management changes, Keolis subsidiaries are provided the basis for continuous improvement and a process for reaching a higher standard. The outcome is better service for passengers and customers, more reliable and available fleet, and more efficient public transportation agencies.
Keolis Côte Basque-Adour (KCBA), a subsidiary in France, implemented KIHM in June 2021 and has seen improvements in network operations and maintenance. By instituting a five-minute frequency reporting policy, the agency has been able to get a clear picture of fleet availability due to real-time updates of work performed throughout the day. As an added benefit, KCBA staff feel more involved in the overall process.
KIHM Keolis Industrialized and Harmonized Maintenance (KIHM) provides subsidiaries with the tools, process, and support needed to continuously improve their maintenance programs and their ability to provide excellent transit and customer service to their passengers.
For additional information on the KIHM Keolis Industrialized and Harmonized Maintenance (KIHM) lean management system, and how your agency can benefit from the customized process, download the Keolis brochure, "Modernizing Maintenance Worldwide – KIHM, A Continuous Improvement Approach" by filling out the form below.