5 min read
Focus on Community: Marc Perla on the Launch of the "Arrow Shuttle"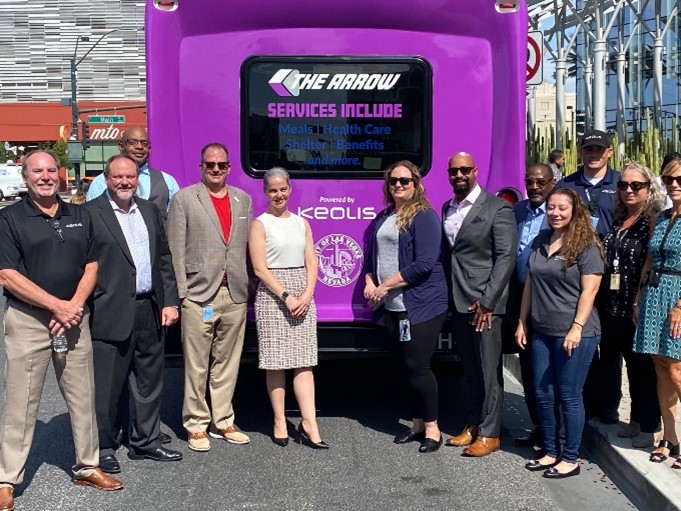 "It's really important to us that this community that has already fallen victim to lack of access and resources doesn't fall victim to the worst fate of all: hopelessness."
On July 20, Keolis joined the city of Las Vegas, Nevada to announce the launch of "The Arrow," a free shuttle operated by Keolis that starts and ends each day at the Courtyard Homeless Resource Center and connects those experiencing homelessness with essential services at each stop along the way. The Arrow shuttle will provide access to essential resources such as food, emergency shelter, healthcare, as well as job training and counseling services.

In this interview, Marc Perla, General Manager of Keolis of Southern Nevada, discusses the development of this invaluable service and its importance to the community.
---
How did the concept for the Arrow Shuttle come about?
Las Vegas, like many other large urban areas, is not immune to the epidemic of homelessness. As an active member of the community with established relationships, Keolis reached out to the City of Las Vegas to see what we could do to be a part of the solution. Approximately two and half years ago, Keolis met with the city in an effort to build a pipeline between the homeless community and potential employment opportunities. Through these conversations we quickly identified a fundamental access that made it exceedingly difficult for these vulnerable individuals to qualify for jobs.
When you're experiencing homelessness, access to basic but important items that job-seekers need, such as birth certificates and copy/print stations, is limited. So, we hit the pause button and decided to focus on bridging this gap. That approach led to the development of a circulator service to provide the homeless with free transportation access to critical services which were desperately needed.
The project was competitively bid, and we pursued the opportunity and proposed routes, business platforms, and size and scope specifics. Two months ago, based on the strength of our application and reputation within the community, Keolis was awarded the contract and we're beyond thrilled to be launching this service that will reach so many.
What is unique about operating public transportation in the Las Vegas community?
Las Vegas is truly a dynamic city which offers unique set of challenges and opportunities, and we are honored to partner with our stakeholders to deliver this critical service to our residents. Las Vegas is a 24-7 operation; there is no downtime. Weekends are busier than weekdays, but large events are happening all the time and you have to remain vigilant and prepared for just about anything.
How does this project reflect the partnership between Keolis and the City of Las Vegas?
One of the primary reasons Keolis was awarded this contract is because we have demonstrated our "More Ways, More Life" commitment to engage the communities we work in and be an active partner in making life better. We are grateful to have such a strong relationship with the City of Las Vegas, and this new initiative only improves our partnership.
How does this contribute to the community's sense of inclusion and belonging?
Being unhoused is a tragic situation that affects a significant share of our community, and it affects people from absolutely all walks of life — adults, children, veterans, people of all races and ethnicities. Homelessness is chronic for some, temporary for others, and many are one missed rent payment away from finding themselves in this situation.
If the public infrastructure isn't in place for you to access basic needs like food and shelter, it's challenging to get to that next step and be able to gather documentation and pursue a job that will ultimately provide a better footing in life and a more secure place in the community. It's really important to us that this community that has already fallen victim to lack of access and resources doesn't fall victim to the worst fate of all: hopelessness.
We can't solve all of the problems, but we can provide a hand up by bridging that mobility gap, making sure the access is there, and ultimately working to make sure no one is our city feels left behind or forgotten.
What was the frontline workforce's reaction to the introduction of this new concept?
Frontline workers really embraced this opportunity and we quickly found employees interested in operating this service. Homelessness is highly visible in Las Vegas, so being able to play an active role in providing support to improve their situation is something that naturally excites our Keolis team.
Why is this a good time to launch this type of service?
It's a good time because the City of Las Vegas and Keolis has developed a thoughtful plan to ensure real access to essential services. The structure to offer such a transportation option is logistically a challenge and of course uses a lot of resources.
However, more and more people are experiencing homelessness and if this service can help lift up our residents and even potentially be a model for other cities to follow, then it will be well worth the time, effort, and resources.
Do you have any advice for other transit operators who might be interested in launching their own similar service?
Embrace the opportunity and find the way like Las Vegas did to make it work. We'll need more creative partnerships between the private and public sectors to make a difference and resolve this crisis.
They say, 'a rising tide lifts all boats,' but in this case you can't assume the tide will just come naturally. You have to put in the work to make sure every member of your community feels valued and has the chance at a better life. It should be our mission to make that happen.
Keolis is incredibly proud to partner with the City of Las Vegas in a project that embodies how we imagine, care, and commit to the communities we serve with essential transit services. For more information on the launch of the Arrow Shuttle, and other services offered by the city of Las Vegas, please click here.
Check out these stories on the Arrow Shuttle from KTNV Channel 13 Las Vegas and KVVU Las Vegas!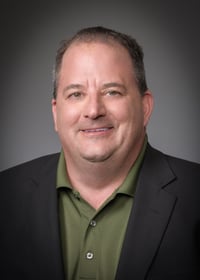 Marc Perla, General Manager of Keolis of Southern Nevada