4 min read
Elevating Public Transit Operational Excellence: Methods for Continually Improving Performance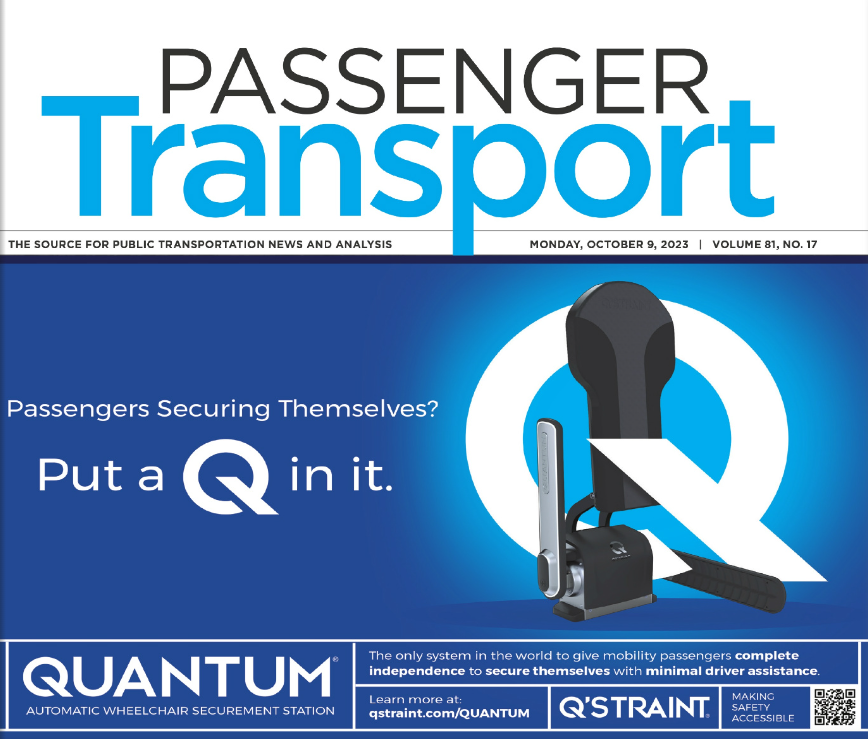 This article originally published in APTA's October 9 issue of Passenger Transport Magazine by Steve Shaw.
Operational excellence is key to delivering safe and reliable transit services that public transit agencies and passengers demand and expect. However, excellent operations performance doesn't happen in a vacuum – it happens in conjunction with a commitment to safety and security as well as with fiscal accountability. These principles working in harmony help create safe, intelligent, and sustainable mobility solutions accessible to all communities.
The immediate impact of operational excellence on the safe and reliable performance of public transit systems is obvious: is the bus on time? Was the train canceled? Did passengers arrive safely or find the trip comfortable?
Getting operations synchronized and executed efficiently hinges on a relentless dedication to enhancing collaboration between individual teams and various departments. It also requires a commitment to the further digitalization of operations and innovations in asset management systems. Failing to do so would imperil network performance, underlining the indispensable role of excellence in operations relative to everything we undertake.
At Keolis, we are guided by a set of asset management best practices that fortify the value we deliver to our partners. These principles can help any organization in almost any industry, too:
Emphasizing Safety and Availability: Prioritizing safety and maximizing availability while astutely managing risks forms the cornerstone of our operations.
Optimizing Asset Lifecycles: We are resolute in our commitment to maximizing network potential and optimizing asset lifecycles, ensuring resources are allocated judiciously.
Economizing Costs: We scrutinize expenditures to ensure prudent financial stewardship, consistently seeking efficiencies without compromising quality.
Empowering our Workforce: A skilled and empowered workforce is central to our vision, where ongoing development is a linchpin for sustained growth.
Future-Proofing Transit Networks: We invest in forward-looking strategies to ensure our transit networks remain resilient and adaptive in the face of evolving challenges.
To realize these commitments, Keolis has embraced the Keolis Industrialized and Harmonized Maintenance (KIHM) approach. KIHM is a standardized and iterative maintenance and asset management program tailored to specific locations, ensuring that maintenance performance and operational management consistently progress. This approach not only elevates the quality of our service but also facilitates the cross-pollination of best practices among our subsidiaries.
Following a structured framework, KIHM is anchored in four pillars:
Forecasting: Predicting, outlining, and meticulously planning the maintenance process with a forward-looking perspective.
Planning: Anticipating future demands and resource requirements, enabling us to make proactive decisions on purchasing and stock management.
Execution: Establishing clear, standardized processes and procedures, ensuring operational consistency across the board.
Monitoring: Leveraging data-driven insights from maintenance operations to proactively identify risks to maintenance targets, enabling timely intervention.
The goal is to maintain a consistent, high-quality standard of maintenance, ensuring the reliability and safety of our vehicles and infrastructure for passengers.
Still, perfecting your operations goes beyond a robust management system framework. Local leadership teams – with support for all managers in the form of appropriate tools and communications – a skilled workforce, fortified information technology, and stringent security measures all need to coalesce to bolster operations and asset management systems. This is no easy task and requires a clear vision from a strong corporate leadership team with the right people in the right roles.
The city of Reno, Nevada stands as an example of what can be achieved by applying the above principles. Through its partnership with the Regional Transportation Commission (RTC) of Washoe County, Keolis achieved a perfect score in an independent audit of its maintenance systems, showcasing tangible advancements in fleet quality. The audit revealed that the existing fleet has no out-of-service violations and the number of defects decreased by 20 percent compared to a previous audit.
As networks continue their transition away from fossil fuels and internal combustion engines, these systems will be more important than ever. Fleets will become more diverse, with hybrid combinations of legacy diesel, battery-electric buses, and – increasingly – hydrogen. In the above Reno example, the fleet consists of 62 buses, including 19 electric zero-emission vehicles and 42 diesel-electric hybrid vehicles.
The ability to efficiently manage rolling stock maintenance from different manufacturers, with different parts, and even different drive train systems will continue to be an imperative. Decarbonization of transit is hugely important to our passengers and the planet but will require a sharp focus on the details of maintenance and operations regimes.
Finally, in the face of labor challenges post-pandemic, agencies and operators need to work to maintain appropriate staffing levels. Plans and systems are important but are meaningless if they aren't sufficiently staffed. Keolis has been able to tamp down absenteeism rates across its U.S. transit business while continuing to onboard more employees daily. This has had a direct impact on key operational metrics such as mean miles between accidents, which has seen an average increase across all Keolis transit operations. And while a variety of factors can influence ridership – like economic conditions or traffic – operational excellence undoubtedly plays a pivotal role. Keolis has observed month-over-month growth in trips taken on U.S. bus networks, with most operations experiencing double-digit percentage increases between May 2022 and May 2023.
Operational excellence isn't just a catchy phrase; it is a central component of how to run transit systems safely and efficiently. Although approaches to improving performance may vary, Keolis calibrates our approach to operational excellence to better meet the distinctive needs of each contract, drawing from an international repository of best practices. This, we believe, is the linchpin to delivering unparalleled public transit operations and performance.