10 min read
The Viability of a Driverless Transit Future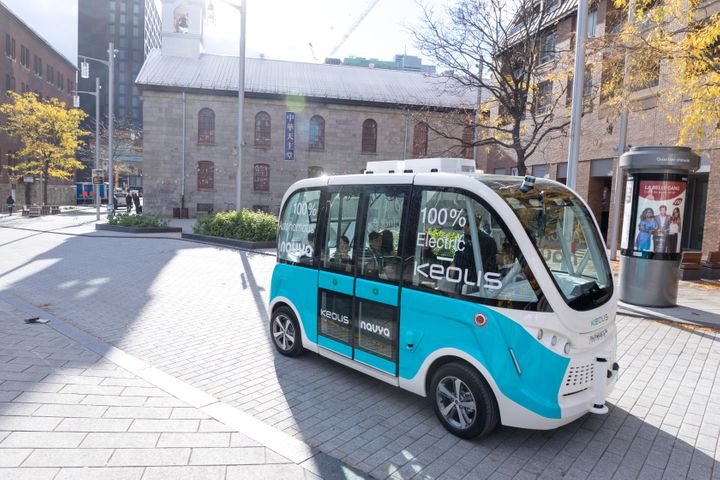 Since 2016, Keolis has been leading the charge in helping public transit agencies explore new technologies and mobility solutions that can be provided through electric autonomous vehicle (AV) systems. As a key element linking the transit network, AVs can be deployed in dense urban settings where smaller, shared shuttle services are able to provide public transit more efficiently than larger buses. And by supplying the first-mile/last-mile connection between modes, transit hubs, and employment and activity centers, electric AV shuttles are helping to decrease single-occupancy vehicle trips, reduce congestion, and greenhouse gas emissions.
Electric AV shuttles have operated in cities and countries throughout the world and in a variety of settings from rural locations like Waterloo, Belgium, to urban city roads like in Las Vegas, Nevada. Shopping centers, amusement parks, airports, industrial sites, hospitals, and tourist areas are just a few of the destinations AV shuttles serve.
In Candiac, Canada, Keolis participated in a partnership in which AV shuttles operated in mixed traffic on a two-kilometer stretch of roadway. For 12 months the shuttles served the public by providing a link between a park-and-ride lot and the bus terminal. Although no passengers were on board at the time, a research and development project tested the shuttles in Quebec's wintry weather conditions. The results helped with future design of heating and cooling systems aboard shuttles.
Las Vegas, Nevada, ran an AV shuttle between 2017 and mid-2019. The Las Vegas AV was a small loop in downtown Vegas near Fremont Street – a very popular tourist destination. It was used to showcase AV technology and highlight the innovation displayed by the Regional Transportation Commission of Southern Nevada (RTC). The demonstration loop connected to a mass transit station and the Deuce double-decker bus that travels along the Las Vegas Strip. The project was done through a partnership between the American Automobile Association (AAA) and Keolis.


To further highlight the expertise of Keolis, our Head of Autonomous Vehicles, Clement Aubourg, answered a few questions about AV technology and how it can be implemented for PTAs.
Q: What is important about AV technology, and what value does it bring to society?
A: AVs connect to mass transit stations and modes, and this allows more people to use mass transit instead of their cars. This is important because if a personal vehicle is still needed for the first and last mile, then there is less likelihood to use transit at all.
The solution is also greener, since the goal is to use electric vehicles. AVs are shared with multiple passengers and offer another public transit option to reduce single-driver vehicle congestion, especially in larger cities – all these factors contribute to the quality of life.
What Keolis provides to our clients through the autonomous shuttles is different than what we provide through other modes. The autonomous mobility activity is quite new in comparison, and these products are highly innovative prototypes that offer a promise of a future important benefit.
There are three critical things we always consider with AV technology:
Safety – As with everything we do at Keolis, safety is key. Because AVs are driven autonomously, we make sure all bases are covered and won't take any risks.

Progress– Through the testing we've done and the lessons we've learned, we are able to build upon successes and, therefore, increase the complexity of how AVs operate – and deploy AVs as a solution. The fact that shuttles can now operate in open traffic in a very congested area like Montreal is something we wouldn't have been able to do a few years ago.

Acceptance – You can have what you consider the best solution possible, but if the client is cautious or afraid to utilize the technology, then there is actually no success. What we are doing must be accepted by our clients, PTAs, and the general public in order for it to be a success.
Q: Why shared AVs versus private?
A: The way that Keolis deploys AV shuttles is to enhance transit networks and to act as another transit option that will help to reduce single-occupancy vehicle trips. So, the goal is to attract passengers and help reduce congestion and pollution. Plus, with shared vehicles, this also helps make the system more efficient and affordable.
Private AVs bring up a much more complex conversation, because now you are talking about the levels of autonomy and the complexities of operating AVs with less direct intervention of a safety driver or remote operator.
The five levels of autonomy go from zero autonomy – where the driver is completely responsible for operating the vehicle – to level-five autonomy in which the system controls the vehicle autonomously, and it can travel anywhere under every condition without a driver. At this point in the technology, this level of autonomy is purely science fiction.
In level-four autonomy, the system is able to assume complete control of the vehicle, but the driver can assume control if they desire. This is now being utilized by self-driving car and taxi companies like Waymo in San Francisco and Cruise in Phoenix, where there is no longer a safety driver on board.
We are able to do this with our shuttles, not in the public realm, but at our test site in France. These shuttles no longer need safety drivers because the vehicle is capable of monitoring its own safety – which is key. We just have what is called a supervisor or remote operator who can manage more than one vehicle, which is the ultimate objective and a cost saving measure.
Q: AV for private transit hasn't accelerated as fast as people like Elon Musk have envisioned. Does shared, electric AV hold more promise? If so, why?
A: With the exception of demand response service – door-to-door service for people with reduced mobility – the goal of Keolis' AVs is to reduce single-occupancy vehicle trips, enhance transit linkages, and broaden the transit network to attract more riders.
It is important to think of the term "autonomous" as meaning "automated." AVs are exactly like a robot in that we teach the vehicle how to react, how to behave, where to go, where to stop, etc., and the vehicle is just adapting to its environment.
AVs operate in lanes and follow invisible rails. They always go the same direction and to the same places. It is much easier for a vehicle to perfectly learn how to react on a specific route that will almost never change than it is to for it to adapt to everything everywhere. We teach them how to react and how to behave in an ideal world, and the answers they have will help them to adapt to the environment. If you have a specific area where AVs operate – five or 10 miles – you can teach the vehicle to react in most of the situations it will face. For example, if the AV is supposed to go 10mph and there is a bicycle in front of it going slower, then the AV will adapt and reduce its speed to accommodate the bicycle.
But if you go the Elon Musk way of saying that the vehicles can operate through autopilot, they have to be able to understand a much more complex environment – basically they will have to know all of the traffic rules instead of knowing how to react to a specific set of parameters in a specific area. We are able to deliver specific solutions to our clients such as "x-number of shuttles every five minutes," because we know the vehicle is capable of traveling on a specific route. This always follows an in-depth feasibility study of that specific operating area.
In order for the Elon Musk model to work, we would have to access an entire city or an entire state and conduct a feasibility study on how AVs would operate in any condition anywhere within that area – something that is not yet feasible.
Q: There's a new testing facility in France. Describe it. What has it taught us?
A: SEMA is an autonomous mobility test site located in Châteauroux, France. The site was a former U.S. and French military base and now serves as the site of the French Sport Shooting Federation, which will host the 2024 Olympic shooting competition.
There is a three-mile test track where we can test different vehicles and different conditions, including simulating features like roundabouts and complex left turns – very complex responses for an AV. We also attract new global manufacturers, including from Europe, Asia, and North America, to showcase new technologies and initiate joint projects with them in the future. This site gives us an opportunity to show our expertise regarding autonomous mobility. It's a test bed for us to help elevate vehicle performance and commit to an increasingly higher level of service to our clients.
Our core values are, "We imagine, We care, We commit." That commitment requires comprehensive vehicle testing before implementation. For instance, the AVs that have been deployed in Montreal were first tested at this facility in France. Plus, every new software release is also tested at this site before it is deployed onsite to ensure safety prior to putting it in operation. We also provide extensive training for our safety drivers, our AV team, our technical staff, and our maintenance teams, especially with regard to the specific electric-vehicle technology related to batteries. We also recalibrate LIDAR, which is the invisible rail system AVs run on.
Q: Why is there still an "operator" on board?
A: We have a safety driver on board when we are in level-three autonomy, which is the case most of the time. The manufacturer can only guarantee the safety of its entire system if the Operational Design Domain (ODD) – the conditions that are necessary for the vehicle to drive autonomously – are present. Some examples of ODD include certain weather conditions, specific road widths, visibility conditions, etc. If the ODD changes, like if it begins to rain, someone must be on board to take control of the vehicle, since it cannot safely operate outside the conditions for which it has been programmed to operate.
When operating in level four, the supervision job is managed remotely, and although there is no safety driver on board, there will be one nearby. This is not like playing a video game or like a military drone, where driving and control is done remotely. The remote supervisor provides assistance and helps ensure safe and smooth operation of the AV shuttles.
Q: Tell us about a recent wedding that involved Keolis' AVs?
A: I was actually married in November 2022 in an AV at the test site in France. The wedding party and guests were in 10 stationary AVs and we arrived in another AV.
The concept of autonomous vehicles for transit is to prepare for the future – to be ready when the technology is available. Those interested in exploring, investing in, or deploying AV technology can certainly benefit from the experience and expertise of Keolis. The underlying systems are highly complex, with significant safety issues, and Keolis is working now to set the standard for AV system implementation – setting a solid foundation for tomorrow's transit.