4 min read
Customer Service – Keolis and MBTA Making Boston Better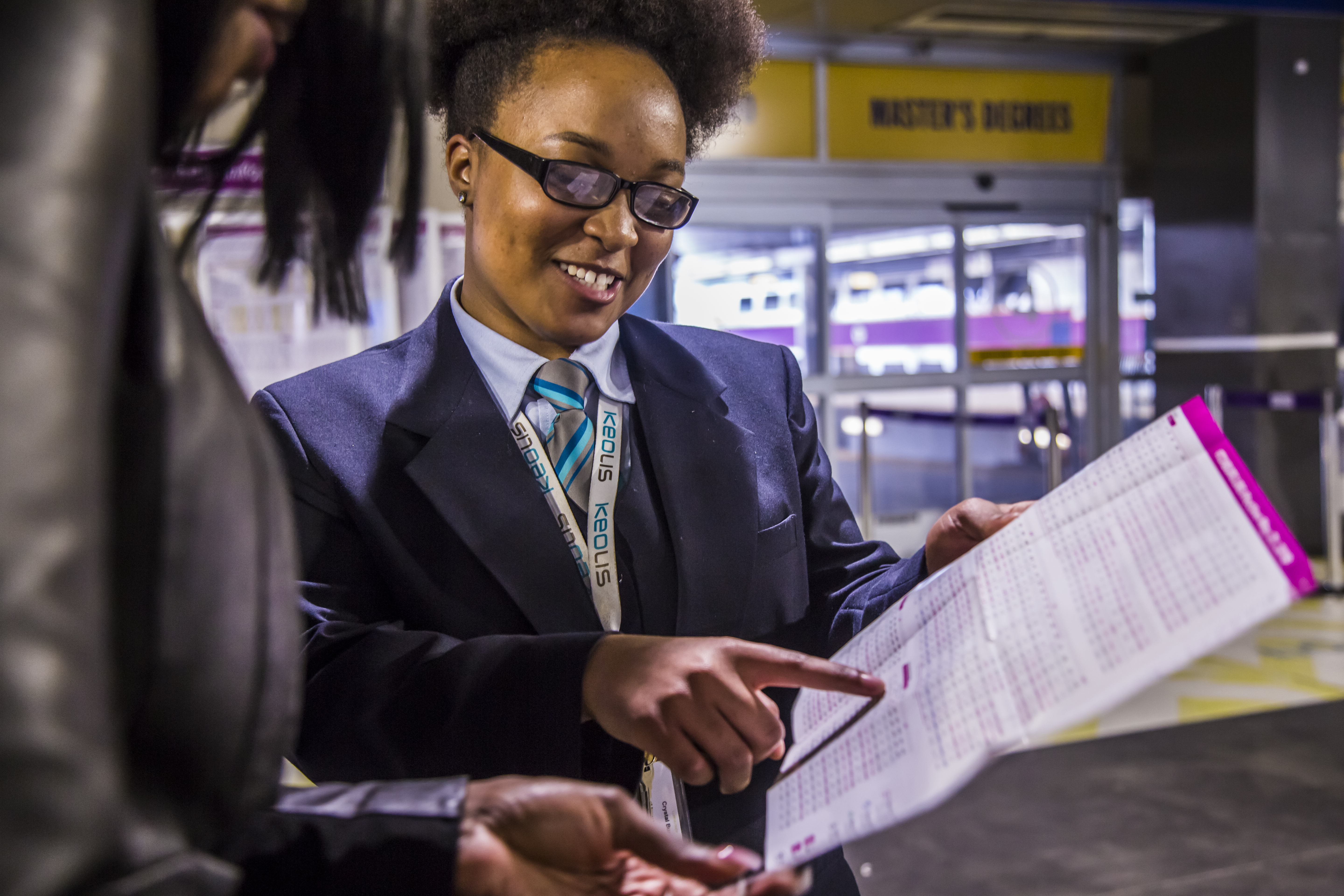 Serving customers – passengers aboard mass transit and clients who utilize our services – is a key focus of Keolis. Whether we are operating autonomous shuttle services, implementing cutting-edge maintenance programs, or operating various transit modes around the globe, in every instance customer service is at the core of our delivery.
How customer service plays out in the day-to-day transit environment – and how Keolis supports those efforts – is the result of a partnership focused on thinking like a passenger and devoting staff to assisting, supporting, and providing information for customers and clients.
In Boston, Massachusetts, Keolis and the Massachusetts Bay Transportation Authority (MBTA) have created a partnership that brings customer service to a new level. From managing train operations to providing in-station ambassadors and even redesigning rail systems, Keolis' customer service commitment spans its entire operation.
For Parking Services and on Commuter Rail – operated and maintained by Keolis – the Passenger Information Center (PIC) is the nerve center for customer information. PIC agents provide real-time updates to passengers on anything from service alerts to how to get from point A to point B. By working with other departments, agents access real-time GPS data on nearly 500 trains, and they share status updates via social media through T-alert texts and on the MBTA website. Centralized Electric and Traffic Control (CTEC) is the control center where train movements are managed, and it works with the PIC to feed accurate and timely data on delays, interruptions, and other service-related issues. Having the PIC, CTEC, and track and communications controllers all working in concert provides passengers with meaningful and actionable information that aids in their transit experience.
For example, if PIC sees that a train may be running six minutes behind schedule, they may not announce that delay to passengers immediately. Because of PIC's familiarity with each train line and its operating procedures, agents can see that there is a stretch of track where the train can operate at faster speeds to make up that six-minute delay. Announcing train delays prematurely may result in dissuading passengers from riding, so carefully managing real-time train information is key to serving and maintaining riders. Still, passengers can always call for an update!
At train stations, Passenger Concierge staff serve as Commuter Rail ambassadors – helping passengers get information on where they can travel, what types of passes exist, and even helping riders find their way through a station. These customer service agents provide a friendly face and serve as a one-stop-shop for anything passengers may need to know about riding the trains. This is particularly important for first-time passengers and growing ridership. Steps of train travel that regular commuters consider routine, may be intimidating to a new rider and this white-glove touch helps to convert passengers to long-time users. Although the ambassador program is new to Boston, it is an international best practice for Keolis that is being imported into our U.S. clients and their systems.
It's not just our focus on passengers that works to elevates service. Satisfied and valued employees create satisfied and valued customers, so Keolis created a workforce development program to help create career pathways for employees that ultimately benefit our customers and clients as well. Often customer service jobs, such as those at the PIC, are often more junior or entry-level opportunities, so Keolis works with these employees on defining their career paths. For instance, when we hire and train a new employee, we want them to view Keolis as a career and not just a job. As a result of these efforts, someone coming into Keolis as an ambassador may very well be promoted to work in the PIC or even take on a role in the corporate office. Opportunities also exist in operations, like becoming a train conductor and or an engineer. For example, a senior leader in the Keolis safety organization started out an as engineer and is now an executive in the company.
Evolving to serve the new normal
Because of changing ridership patterns resulting from the response to the COVID-19 pandemic, MBTA Commuter Rail reconfigured their service to resemble a regional rail model, adjusting services times and reallocating rolling stock to better accommodate ridership patterns that, in some cases, changed dramatically during the pandemic. As weekday morning and evening peak ridership decreased, frequency and train-size were reduced to reflect this change. However, because midday service increased, additional trains were added to cover the new demand during this timeframe.
Essentially, the MBTA and Keolis were able to partner and to retool the Commuter Rail system to reflect the changing travel patterns of passengers because of the pandemic and, at the same time, introduce a new type of service that met the evolving demand and ridership patterns. Keolis has a proprietary method of analyzing current and potential passenger behavior. Called Keolis Evolve, it provided information that helped make these regional rail style service decisions.
By collecting millions of data points throughout the clients' entire transit system, Evolve shows agencies their passengers' travel habits and how they are using transit. The platform also shows where service adjustments can be made to respond to changes in demand and ridership – such as Boston experienced during the pandemic.
As part of this customer-service-focused regional rail system, Keolis partnered with MBTA on a robust marketing and communications program to help current passengers and future riders understand the new service and its benefits. The "You're Not 9-5 Anymore, and Neither Are We" campaign outlined specific measures MBTA and Keolis were taking as return-to-work plans were being implemented. Social media campaigns, special fares, utilization of the MBTA app, and web-based promotions helped the agency educate riders on post-pandemic safety measures that passengers could expect from MBTA.
At Keolis, serving our passengers spans our entire operation and is part of who we are. From accurate information that might impact a train trip to the doctor's office to a smiling face that welcomes a new passenger onto a Commuter Rail train, MBTA and Keolis are working to make our services better…for you.