4 min read
A Commitment to Safety: Keolis' Robert Anderson Shares How COVID-19 Put Safety in Perspective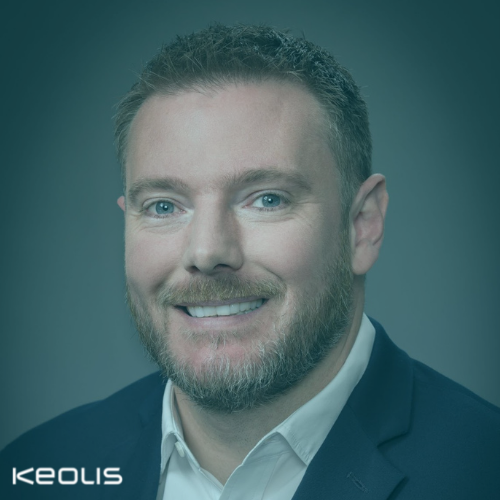 With 19 years at Keolis under his belt, Robert Anderson is the Executive Vice President of Human Resources, Safety, and Organization at Keolis North America. Robert's role is solution-oriented in every facet, from working to solve safety challenges and risks in his divisions, to developing a region-wide safety framework.
In this interview, he shares how the pandemic has reinforced Keolis' safety values and our commitment to the mental and physical health, safety, and wellbeing of all employees.
Question: The COVID-19 pandemic has added a whole new dimension to employee and passenger safety and well-being. What are some of your biggest lessons learned?
Answer: A risk-based approach to safety helps you to take on known challenges and emerging threats like those we see with COVID. Our divisions already had good practices in place around their approaches to creating safe environments for our passengers and employees, which made us relatively well-positioned to tackle the uncertainty that came with COVID. It reinforced to me what we already knew: that people really matter, and the welfare of our people and our passengers is fundamental to everything that we do. During COVID we had plans and programs in place to support people's welfare in a slightly different manner.
We also shouldn't lose sight of the fact that a large percentage of our workforce was on the front line every day. That part of our business did a phenomenal job through COVID and I'm extremely proud of the maintenance of the service and the safe-working protocols that were put in place by local management teams to keep the public and our employees safe.
Question: What do you think many outsiders rarely realize about the safety challenges specific to the transportation industry?
Answer: I think what they probably wouldn't recognize or understand is how much work goes into preparing for the unexpected. There is a big focus on getting things right day-in, day-out and delivering on our commitments, which is our first priority. There are rare occasions where things don't go to plan and a lot of effort and planning goes into the preparation to be able to respond and get the operations back on track as quickly as possible – I think that's probably the piece that people wouldn't see. Having the ability, capability, and agility to respond to the unplanned or the unexpected is crucial, and if outsiders don't get to see this side of our work, it's a good thing as it means that we're doing a good job of running the service.
Question: What is one of the most underrated perks that makes a huge difference in your team's work satisfaction/wellbeing? What are the ingredients that contribute to that?
Answer: We have a very strong focus on leadership in our organization, and when we talk about employee engagement, we see the employee engaging with the organization primarily through relationships with their manager and colleagues. Making those relationships the best they can be is one of our key focuses. Because many of us could not be in the room with our team through COVID, we identified solutions for having contact and connections to one another and to the business in a remote environment.
We have some very simple principles that we follow around that and use four key questions that we feel every employee must be able to answer:
Where are we going?

What is their role in contributing to that direction?

How are they performing against that objective?

How can they develop their career with us?
We center a lot of our leadership on answering those questions, and helping employees solve problems and work through emerging challenges. That's the crux of our approach: having strong value-based leadership.
Question: Positive atmosphere is a key component to a productive work environment. What are some of the actions you've taken to increase your team's wellbeing?
Answer: At an organizational level, we developed a framework to support everyone. We were careful to effectively communicate the support services available to our team and make them accessible across the board, from management teams to an employee's family members. It was important to leverage our partners to the fullest during this difficult time.
The nature of work shifted to focus on more regular check-ins with the team, so we put in place a daily call for the team to not only talk about their work priorities but to make sure that we were taking care of each other. We also increased the frequency of communication with our teams to make sure they were feeling supported. The goal was to keep that personal touch, to demonstrate we cared, and to make employees feel connected and supported.
Question: As a company and as an industry, how can we be better at destigmatizing and improving mental health issues in the workplace? What have you done that has yielded good results?
Answer: As a society we're on a journey toward increasing readiness and the ability to talk about mental health. The topic is now on the table as opposed to being taboo, but we still need to be comfortable speaking to our own struggles. I would say it's a topic of leadership – it's up to a leader to create a safe space for employees to talk about how they are, to know that there is no negativity around that. That means we need to develop our leadership capabilities to support all employees in these spaces. At Keolis, we've partnered with a number of external agencies to upskill managers on being able to identify when someone's struggling, to know how to have those sensitive conversations, and what to do in response.
On a broader scale, we have employee engagement, activities, and programs for people to opt-into, like exercise challenges. We're working on moving toward a more proactive approach to managing wellbeing and employee health.
Question: On the topic of health in the workplace: What do you wish you would have known at the start of your career in HR?
Answer: I would say I wish I had known two things: that systems drive behavior, and that the role of the organization is to create the conditions for them to thrive. You must provide the environment for people to do their best, and you need to create the conditions for those people to do their best work – which is ultimately what everyone wants. Focusing on the organization, the social, and the physical aspects of an environment build a productive culture which really enables people to come to work and do their best. I think focusing on supporting people and providing them with the right environment to have a sense of trust, belonging and value is key to having a successful and safe organization – an organization where people want to be.